SALE!

Wireless Invisible Dog Fence Collar
Frequently bought together
This item:
Wireless Invisible Dog Fence Collar
Description
Now your pet can have full freedom in your yard without the fear of them running away or chasing stuff too far, with the Wireless Invisible Dog Fence Collar!
No matter how big or small your yard is, with the invisible dog fence, there's no need anymore to keep your pet on a short leash! No need to tie down your dog to a post, preventing it from enjoying the outdoors and getting the full exercise it needs to be healthy and fit.
The electric dog fence has exclusive Wireless Plus technology that lets your pet play right up to the edge of your property. No wires, no need to bury anything underground to set it up! Just plug it in and the wireless invisible fence simply works!
The best invisible dog fence on the market has an adjustable operating distance of 500m (1640 feet!) which is 60% more distance than most wireless dog fences on the market, making it the perfect fit for tight spaces or uniquely shaped lots.
Let your pet make the most of your yard, no matter it's shape, by using the wireless invisible dog fence and collar.
Here's how it works:

Wireless Invisible Dog Fence Collar Benefits
Completely Wireless: The

invisible pet fence

device is 100% wireless saving you a lot of time during setup. There's no wiring and no burying.
Adjustable Long Range & Short Range Distance: Wireless Invisible Dog Fence Collar's long-range distance gives your pet ample room to run around and play as much as it wants. With 1640ft/500m of adjustable distance you can set up your wireless dog fence literally anywhere.
Stationary & Portable: This

wireless electric fence has

two power supplies. You can leave it stationary and plugged into the wall. Or if you'd like to use it portably for traveling, you can unplug it and bring it with you anywhere. The wireless dog fence perimeter will remain active even when used portably due to the backup power supply inside the transmitter. The backup supply lasts up to 10 hours before recharging is necessary.
Power Saving Mode: To conserve the power of your newly accquired

wireless invisible fence for large dogs and small pets

, the receiver will go into standby mode if there's no movement or active use within 1 minute. This will not affect the wireless fence operation, the fence and collar will remain on and active, as soon as movement is detected.
10Hr Backup Power Supply: The Wireless Invisible Dog Fence Collar features a built-in 1000mah backup battery that lasts up to 10 hours. If your power goes out, your dog will remain within the invisible fence safe and secure.
Ultra Durable & Waterproof: We know how destructive pets can be, That's why the collar is completely water and weatherproof, ultradurable, and rechargeable.
Trains and Stops Your Dog From Running Away: If your dog exceeds the invisible fence's range, the receiver will initiate its training function automatically. This will remind the dog to return to your designated safe area. The device begins vibrating for 3 to 4 seconds and if the dog keeps running, applies a 1-100 level adjustable electric shock. If your pet continues to run, the whole process will repeat until it returns home. After a while, your pet will understand how the invisible dog fence works and won't move beyond the boundaries when it feels the vibration warning.
Plug and Play Setup: Plug-In the Receiver and Adjust the Size of the Radius (In Feet), Put the Collar On Your Pet and It's Ready to Go! Be sure to train your dog first, to learn the boundary.
Why this Wireless Invisible Dog Fence Collar is better than competitors:
This electric dog fence collar is the safest solution for all types of pets. The strength of shocks has been evaluated by Dog Training Specialists around the world which assure the device to be safe and comfortable for your Best Friend.
Our wireless fence covers very large areas up to 1640ft(500m) and works with most yard shapes or layouts. You can easily confine your dogs to the back yard, or even the front yard and backyard without access to the sides of your house. Or you can provide full-property access without any barriers.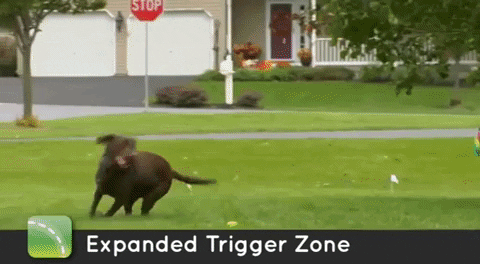 This electric and invisible dog fence works wonders on stubborn or hard-to-train dogs while being safe for everyone who enters your yard. The static correction only goes through the two contact points on the receiver. The receiver includes a tone plus static-correction-only mode for training.
This wireless fence works for all dogs, no matter the shape or the size. That's because you can fully adjust the collar which fits any animal 10lbs and up.
Wireless Dog Fence Specifications:
Range: 0-1650ft/0-500m
Suitable for 10~150lbs
What's included:
All orders are shipped within 24 to 48 hours of you placing the order using DHL eCommerce, USPS or whatever the local courier service is in your location. Typical delivery time frame is between 7 to 12 business days to Europe, USA, Canada & New Zealand, although it can take up to 21 days if there are delays! However, you may receive your items much earlier than expected.
All orders are shipped with a tracking number so you can track it every step of the way! From time to time, there may be some delays beyond our control such as customs or postal delays.
If you have any issues at all with your order then you can return the item back to us or exchange it for something else if it doesn't meet your standards.
We want you to know that there is absolutely no risk in buying something on our store and your payment is always protected with us. If you don't like it, then simply let us know so that we can resolve things.
We have 24/7 email support so please contact us if you need assistance.
Only logged in customers who have purchased this product may leave a review.